Michael MacMahan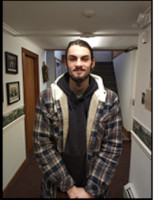 ---
Michael MacMahan calls Guildhall, VT home. He made his way from WMRHS to NCCA Lancaster this Fall, having already achieved all but 6 credits towards his diploma.
On track to graduate this June, Michael has proven himself to be an intelligent, conscientious student; a role model for others in our student body.
He has persevered academically, earning As and Bs in some of NCCA's most advanced classes, all the while holding down a job with a contractor performing grounds and building maintenance in the Bretton Woods area.
Michael earned three credits this 2nd quarter with an average grade of 93%, crushing the quarterly requirement for students of 1.25 credits. As a result of his hard work, he's been asked to speak later this month as a student representative at our charter academy's 3rd Renewal Certification process.
Articulate and succinct, he is the perfect choice to represent all NCCA Lancaster students during this important event. Though Michael will only be with us for this academic year, he has helped us set the bar high in maintaining a rigorous and relevant academic environment while constantly striving for excellence in all he does. Way to go, Michael!