Kayden Willey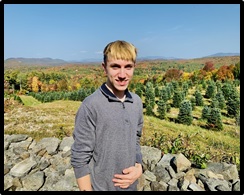 ---
North Country Charter Academy's, Kayden Willey, has been chosen as Littleton's Student of the First Quarter. Last year, Kayden began his high school career at LHS.
In the spring, he transitioned to NCCA needing a total of 16.75 credits. Kayden was present for just one day before the school transitioned to 100% remote learning due to Covid-19, however he didn't let these sudden changes keep him from staying focused on his goals. Kayden has proven that he can meet new challenges as they arise and have the flexibility to handle change, and even to take advantage of it.
Providing Kayden with opportunities to master content as he is ready has created a sense of confidence and success in him that doesn't go unnoticed. When asked what he most likes about NCCA, Kayden shared, "I can work at my own pace and not be set back by the 'one size fits all' school system that most of my friends have to go through. I've been able to finish classes much faster and have earned six and a half credits this quarter, two from a work study extended learning opportunity!"
NCCA requires students to master each course with an 80% or better in order to receive credit. This quarter, Kayden has gone above and beyond earning a 99% average across six courses. In a constantly changing environment, it is clear that Kayden has been able to harness the power of adaptability in his education at North Country Charter Academy. NCCA is proud to honor Kayden as being our Student of the First Quarter.