Charity Dionne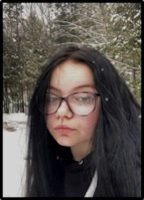 ---
North Country Charter Academy's, Charity Dionne, has been chosen as Littleton's Student of the Second Quarter. Charity landed a seat at NCCA at the end of October 2020, as a freshman from Lin-Wood High School.
Relieved, NCCA was able to accept partial credits Charity earned while attending Lin-Wood first quarter, which resulted in both a peace of mind for Charity and a decrease in the number of credits she needs to accumulate in order to meet the State of New Hampshire graduation requirements. Since transitioning to NCCA, there has been a return for Charity's consistent attendance and strong work ethic, as she has been able to follow through with her goal of successfully fulfilling four of the 17.25 credits she needs to graduate.
Both Lin-Wood and NCCA have coupled together to provide Charity with an opportunity to attend both school districts on a daily basis. Charity attends the morning session at NCCA, then takes the scenic drive back through Franconia Notch to Lin-Wood High School, where she takes an afternoon intensive biology course. Charity has significant interests in science and has hopes of securing a career in the medical field.
When asked what Charity likes most about NCCA, she shared, "This is a better work environment for me with less drama. I really like the small group setting so I'm able to focus better. I'm able to build relationships with teachers easily, which makes me want to do better in school. I'm also learning and practicing how to advocate for myself so I can reach my goals." NCCA is excited to watch Charity grow as a student and as a person. Keep up the great work and congratulations to Charity Dionne for being chosen as Littleton's Student of Second Quarter.